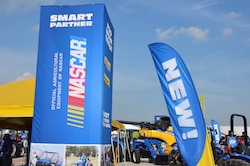 New Holland has continued to develop their support for the ethanol industry. Their relationships with other leaders in agriculture and beyond has added growth and partnerships to their brand.
Director of Growth Initiative Institutional & Speciality Sales, Ron Shaffer, shared that the New Holland brand is focused on growth and his job revolves around anything that will grow revenue for the company.
"We formed a couple of different business units focused on the niche markets in self propelled forage and SP sprayers in crop production. Then another big part of my job is working with our partners, such as our relationship with Growth Energy and American Ethanol. That has been a very good partnership that was started about two years ago. We've seen growth that has been really good for the brand and our dealers."
With these partnerships, New Holland has hosted events at the Growth Energy plants, touching about 25,000 people in their local communities. He also reminded us that New Holland is the only company that has opening supported ethanol production and it's contribution to food, fuel and jobs in local communities.
NASCAR is another area where New Holland has had a longstanding relationship with. Throughout the past 30 years New Holland been a part of nearly all the tracks across North America. Ron said, "It is truly one partner supporting another partnership, it's all tied together."
Listen to Chuck's complete interview with Ron here: Interview with Ron Shaffer
2013 Farm Progress Show Photo Album
Coverage of the 2013 Farm Progress show is sponsored by Bayer CropScience, Growmark and New Holland