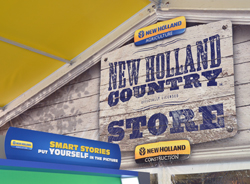 The New Holland Country Store may be on location at farm shows but it is also online as well. New Holland's Rebecca Gunderson was working in the Farm Progress Show exhibit just in front of the air-conditioned store so I asked her to tell me about it.
The Country Store at FPS had a big selection of clothing, toy tractors and useful branded items. It is also where you could get a blue raspberry snow cone!

Welcome to the new, New Holland CountryTM store online – your one-stop shop for all officially licensed New Holland Country brand merchandise. Created with the "true blue" New Holland enthusiast in mind, the New Holland Country Store offers hundreds of products that help you express your dedication and affinity with New Holland's brand of tractors, haytools, farm equipment and construction equipment. From farm toys to tees and hats to home decor, you'll find what you need to show your family, friends and neighbors that you're "blue blooded" at your core!
If it's labeled New Holland Country, you know it's authentic New Holland.

Listen to my interview with Rebecca here: Rebecca Gunderson, New Holland