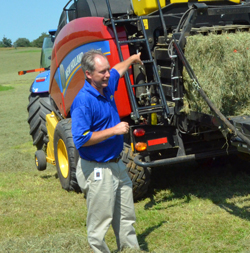 New Holland has added capabilities to its line of BigBalers and Curt Hoffman took to the field to tell us about them.
One big new feature is ISOBUS III compatibility. What does this mean? It means that the balers now feature the IntelliCruise™ feed rate control system on the Standard and CropCutter™ BigBaler 1270 and BigBaler 1290 large square balers. They work with an ISOBUS III tractor like the new T7 AutoCommmand tractor.

IntelliCruise automatically adjusts the forward speed of the tractor in relation to the crop yield going into the baler, resulting in a optimal crop feeding rate. With this feature there is no need to monitor tractor speed, so that operator fatigue is greatly reduced. It also makes it possible for an inexperienced operator to achieve high productivity levels.
Don't forget to get a picture of your first cutting of hay entered into the New Holland 1st Cut Competition by July 31st. You could win a Roll-BeltTM 450 Silage Special Round Baler. Rules here.