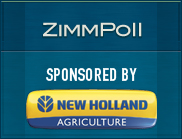 Our latest ZimmPoll asked the question, "What is your favorite alternative fuel (to gasoline)?"
A hands down winner in this week's poll on alternative fuels was ethanol. Which is not a surprise. However, many may be surprised to see the clear runner-up was solar. We had many chime in for the other category. A few of those included: algae diesel, biohydrogen and biobutanol.
Here are the poll results:
Biodiesel – 10%
Ethanol – 42%
Propane – 9%
Natural gas – 7%
Wind – 6%
Solar – 17%
Other – 9%
Our new ZimmPoll is now live and asks the question, How will high path avian flu impact industry?
The states impacted by high path avian flu are on the rise. The most recent outbreak in Iowa on a chicken egg farm has led us all to wonder the short and long term repercussions it will have on the industry, exports and prices for the consumer. In this week's ZimmPoll we want to know if you think this flu strain will transform the industry or will it bounce back quickly?