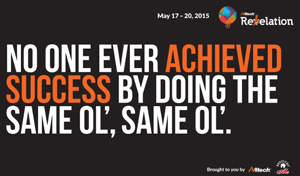 Hello agrimarketers. You know I've been a big fan of Dr. Pearse Lyons, Alltech, for years. Dr. Lyons realized the strength of new media and immediately took advantage of it by including it in all his marketing plans and bringing in a little old agriblogger to cover his annual customer symposium. This May I will attend my 9th event in Lexington, KY and perhaps you'd like to join me.
Alltech has issued an invitation to agrimarketers to participate in the Alltech REBELation from May 17 – 20, 2015. Join us for a time of innovation, inspiration and world-changing ideas. Become a Rebel Agrimarketer! Use the registration code you'll find below.
Get inspired as you join experts from around the world to transform business through communications.
What do millennial consumers really want, and how can my organization deliver?
How do you maximize your organization's reach through social media while minimizing the associated risks?
How is the face of media changing? What do names like Chuck Zimmerman of ZimmComm, Peter Baniak the editor and VP of the Lexington-Herald Leader, Damien O'Reilly of RTE, and Frank Mulrennan the CEO of Celtic Media have to say about the future of media?
Every business has a brand that defines it. Are you managing yours, or are you letting it fall to the wayside?
Are you managing your personal brand, especially in the age of social media? What impact does it have on your success, and that of your organization?
In 2014, over 2,000 professionals from 59 countries attended. Join the conversation and be a REBEL.
We look forward to welcoming you in Lexington, Kentucky, USA this May!