Stories from the 2015 Agri-Marketing Conference continue as this week's ZimmCast features a conversation by world famous farmer Derek Klingenberg.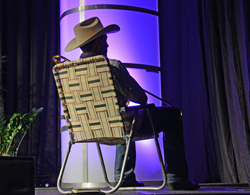 Derek made a surprise stage appearance during a general session as you can see from this photo. The only thing he told the audience was, "Shhh." Then he sat down in his lawn chair and we watched his cattle serenade video. It is awesome and you should watch if you are not one of the almost 9 million people who have already. It's also kind of amusing to read some of the troll comments from animal rights wackos.
Derek was attending the Agri-Marketing Conference courtesy of Carbon Media Group and hung out in their Connection Point booth.
Learn more about Derek and what motivates him in this week's program: Derek the Trombone Man
2015 Agri-Marketing Conference Photo Album