The first Iowa Ag Summit featuring nine possible GOP presidential candidates put the spotlight on agricultural issues in the national media.
Comments made by at the event by former Florida Gov. Jeb Bush, Texas Sen. Ted Cruz, New Jersey Gov. Chris Christie, former Arkansas Gov. Mike Huckabee, South Carolina Sen. Lindsey Graham, former New York Gov. George Pataki, former Texas Gov. Rick Perry, former Pennsylvania Sen. Rick Santorum, and Wisconsin Governor Scott Walker have been the talk of Sunday political shows to Monday talk radio.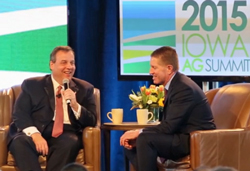 Over 270 journalists who attended the event, representing most if not all of the major news outlets nationwide, all heard about some of the top issues for agriculture including trade, regulations, conservation, food safety, biotechnology, renewable fuels, and immigration.
Among the potential candidates who hit the high notes for the national media was Christie, who jabbed back at a heckler as he was answering a question about EPA's proposed Waters of the United States WOTUS rule. "My people follow me everywhere, I'm magnetic," joked Christie, who called WOTUS a "power grab" by EPA.
Christie favors TPA but has concerns about President Obama as a negotiator, he is opposed to opening up trade with Cuba, says administration should follow the law on the RFS, likes wind, and just says no to GMO food labeling.
Listen to Christie's answers to questions posed by summit organizer Bruce Rastetter. Iowa Ag Summit - NJ Gov. Chris Christie