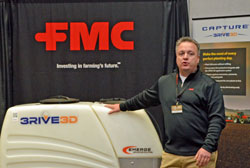 You may remember us telling you about FMC's 3RIVE 3D™ back in November at the NAFB convention.
Here at the 2015 National Farm Machinery Show we got to learn a lot more about this revolutionary system that integrates formulation technology, application technology and active ingredients to increase net planting speed, in-furrow protection and early season success.
FMC's Matt Hancock says the idea for 3RIVE came from one of their field reps in Missouri. "It all started with identifying a grower need," he said. "This idea of being able to apply Capture in a more efficient, fewer fill-ups kind of a way came from our rep, Mike Harper, in Missouri." FMC partnered with Emerge Application Solutions to make it happen and it's now available for growers this planting season.
Hancock says using the system allows a grower to cover up to 500 acres at a time with 30 gallons of chemistry combined with 130 gallons of water to create an even-flowing foam application. Capture 3RIVE 3D is the first product formulated to integrate with the platform, but Hancock says there is more to come. "We're already looking at about a 5 year pipeline of products coming in this format," he said.
Find out more about FMC's 3RIVE 3D in this interview and watch the video below to see how it works: Interview with Matt Hancock, FMC