More than 25 companies and organizations launched the U.S. Agriculture Coalition for Cuba (USACC) in Washington Thursday to liberalize trade and re-establish Cuba as a market for U.S. food and agriculture exports.
Among the speakers who introduced the new coalition were a list of lawmakers from a variety of states, Agriculture Secretary Tom Vilsack, Missouri Governor Jay Nixon, and representatives from a number of the organizations who are part of the new group. "Today we gather to discuss an expanded opportunity for American agriculture – our farmers and our ranchers," said Vilsack. "Allow them to expand business opportunities in a country just 90 miles from our border – Cuba."
Secretary Vilsack at US Ag Coalition for Cuba kickoff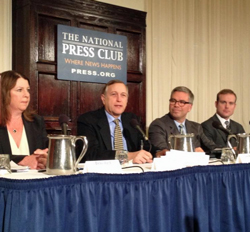 Agricultural organizations representing a variety of commodities including corn and soybeans, poultry, meat and dairy, wheat and rice, have all stepped up to become members of the coalition. "We know the Cuban market for rice is not theoretical. It is real, it is large, and it is compelling," said Betsy Ward, President and CEO of USA Rice. "With rice imports valued at more than $300 million, Cuba is the second largest importer of rice in the Americas. And there was a time when Cuba was our number one export market — we look forward to a return to those days."
Others who spoke at the National Press Club event announcing the coalition on Thursday were Alan Tracy with U.S. Wheat Associates, Dale Moore with American Farm Bureau, and Stephen Sothmann of the U.S. Hide, Skin and Leather Association. Ag organizations at US Ag Coalition for Cuba kickoff
The USACC believes that normalizing trade relations between the U.S. and Cuba will provide the U.S. farm and business community with new market access opportunities, drive enhanced growth in both countries and allow U.S. farmers, ranchers and food companies to efficiently address Cuban citizen's food security needs. Under current sanctions, U.S. food and agriculture companies can legally export to Cuba, but financing and trade restrictions limit their ability to serve the market competitively. The USACC ultimately seeks to end the embargo and allow for open trade and investment.