Welcome to a new regular column I will be publishing on all things AgNerdish. I'm calling it the Cloud since the cloud covers everything and is one of the hottest things developing in the AgNerd world. This week's ZimmCast gets things started with a discussion I had with Willie Vogt, Editorial Director, Penton Farm Progress. Like me, he loves new technology.
Willie makes a point early in our discussion that although it has been developing, "This is really the year everybody got a smart phone." Farmers have made the decision that they want to do things mobile, handheld and not be tied to their office. They now have access to information via mobile devices that they never did before.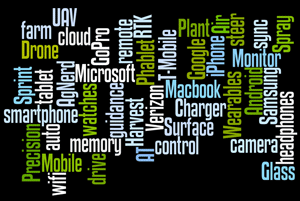 In our program we talk about the most popular and useful new ag gadgets of 2014 and also look ahead to what the trends will be in the coming year. We also discuss a Christmas wish list. A problem both of us have is that we buy our own gadgets and use them for work for the most part. But that doesn't mean that we have all the gadgets we want!
You'll need to listen to our discussion to get some ideas for what new gadgets are proving most helpful on the farm and what you should be thinking about for next year: AgNerd Cloud with Willie Vogt
Here is a list of ideas for your gadget giving and receiving. There are way too many to list everything that is available but I'm providing links to a couple for each category.
Smart Phone: iPhone 6/6+, Samsung S5
Tablet: iPad Air 2, Samsung Galaxy Tab S, Microsoft Surface Pro 3
Laptop: Lenovo Yoga Pro 3, Macbook Air
Wearable Tech: LG G Watch, Google Glass
Mobile Power: Hyper Juice, Anker External
Drone: Precision Drone, AgDrone, AgEagle
Camera: GoPro, Polaroid Cube