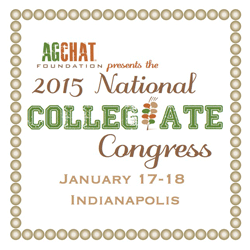 There is a 12 Days of Christmas Sale going on courtesy of the AgChat Foundation. This is for the January National Collegiate Congress. Maybe this would be a great gift for the budding agvocate in your life! Here are some details:
The National Collegiate Congress is a social media and agvocacy training workshop scheduled for January 17, 2015 at Dow AgroSciences' headquarters in Indianapolis, with an optional day of touring at Fair Oaks Farms on January 18 [FAQ].
The agenda includes sessions on what blogging means today, balancing social and professionalism, and connecting with commodity groups. In addition, there is a panel discussion with non-agriculture students majoring in nutrition, social work, and hospitality sharing their perspective on what they see and hear about agriculture.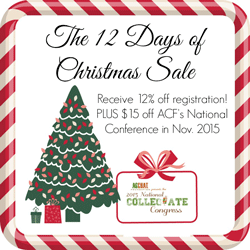 A State of Agvocacy Address will be given in two parts: Taylor Truckey sharing the collegiate level point of view & Mark Gale will follow with a State of Agvocacy Address on post college.
January 18th is the optional trip to Fair Oaks Farms to learn how they are using farm adventure entertainment to engage people as they stop by for refreshments and stay to learn more about farming through dairy cows and pigs.
How can you help? Share with your friends on Twitter or Facebook what the National Collegiate Congress is about and where to register.
The 12 Days of Christmas promotion is going on December 12 through 24, where people who register get 12% off the January 17 ticket price and $15 off the AgChat National Conference in the Fall of 2015.