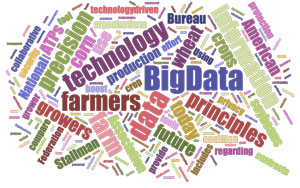 A coalition of major farm organizations and agriculture technology providers today announced an agreement on data privacy and security principles.
The agreement was designed to encourage producers to use the full range of innovative, technology-driven tools and services to boost productivity, efficiency and profitability of agriculture with more assurance that personal data will be protected.
The organizations and companies that make up the coalition include: the American Farm Bureau Federation (AFBF), American Soybean Association, Beck's Hybrids, Dow AgroSciences LLC, DuPont Pioneer, John Deere, National Association of Wheat Growers, National Corn Growers Association, National Farmers Union, Raven Industries, The Climate Corporation – a division of Monsanto, and USA Rice Federation. Nearly all of these entities were represented at the National Association of Farm Broadcasting (NAFB) Trade Talk on Thursday when the announcement was released.
"We're very excited and proud to be one of the members bringing this out to help address those concerns," said Ryan Molitor with Raven, who said there are two key components to the agreement. "Educating growers on what they can do with their data and when they grant access to somebody what that person can do with their data, and that the companies participating in this need to be transparent." Interview with Ryan Molitor, Raven Industries
American Farm Bureau President Bob Stallman says privacy issues were a major topic at the annual meeting earlier this year and he believes the principals agreed to by the coalition provide a measure of needed certainty to farmers regarding the protection of their data. "What we're asking now is for any ag technology provider or any other producer groups to come on board," said Stallman. "There will be a grower education effort with this and we'll have a transparency tool developed to help them assess and make decisions." Interview with AFBF President Bob Stallman
The principles promise to greatly accelerate the move to the next generation of agricultural data technology, which includes in-cab displays, mobile devices and wireless-enabled precision agriculture that has already begun to boost farm productivity across the United States.
Click here to read about all of the principles in the agreement.

2014 NAFB Convention Photos