2014 World LP Gas Forum Photo Album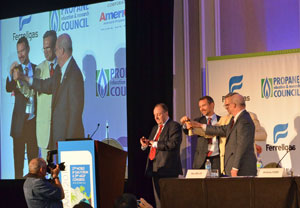 Will Ferrell would have been pleased with the "more cowbell" that rang in the new LPG Application Website – lpg.apps.org – as it went live at approximately 2:30 pm Eastern time on Tuesday at the World LP Gas Forum in Miami.
Ringing the cowbell to introduce the website were Andrew Ford of SHV Energy, World LP Gas Association CEO James Rockall and technical director Nikos Xydas, and Propane Education & Research Council CEO Roy Willis. The purpose of the new website is to provide a one stop shop for everything you would want to know about LPG applications. Check it out!