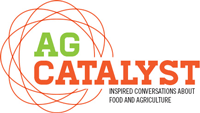 Here at AgWired we have believed from day one that "It's all about the content." And that's the theme of this year's AgCatalyst event taking place next week in Minneapolis. I will there and hope to be creating some great online content to share with you.
It's my understanding that registrations have already surpassed last year's event and if you have not registered I would encourage you to consider it. I'm sure we can fit in a few more!
We'll be at the Airport Marriott and you can find registration information on the event homepage.