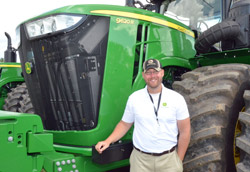 ZimmGlass got a good look at the new John Deere 9R/9RT Tractors at the recent 2015 Products Launch. In this video you'll learn about the features of this new series of 4-wheel drive tractors and see from my view as I test drive one. Note to self: Do not try to video tape your driving experience while driving. Not easy! Especially when you have not had any recent experience with articulated steering.

Large-scale farmers who need to cover a lot of acres under tough conditions need a high-horsepower, no-nonsense tractor with a large, comfortable cab that works as hard as they do. The new 9R/9RT Series from John Deere gives them exactly that.
The new 9R/9RT Series Tractors feature more horsepower across all models and industry-leading hydraulic capacity in durable, articulated four-wheel-drive and track tractor platforms. These machines are ideal for row-crop applications and large-acre small-grain operations with tough field conditions and hillside terrain, as well as the high-performance demands of the scraper market.

The 9R/9RT Series features 10 models with wheels and six tracked models to meet any farming or land management need.

You can learn more about the new series of tractors here.