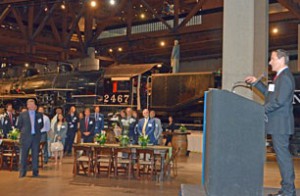 The California Railroad Museum was the venue for Bayer CropScience to gather with friends and dignitaries in the warm up show for the grand opening of the new Biologics and Vegetable Seeds Research & Development Center in West Sacramento, California.
Liam Condon, CEO of Bayer CropScience and Chairman of the Board of Management of Bayer CropScience AG, made a connection between the California railroad and the company. "The railroad here started in 1862…and in 1863 Bayer was founded," he said. "We're proud about our heritage and very excited about our future."
The future in biologics for Bayer will head down the tracks today with the official opening of the new R&D center, which Condon says will be the global headquarters of this important segment of their business. "We've got a fantastic group of people who are just so excited about developing new innovations to tackle some of the huge challenges we're facing in agriculture," he said.
Also speaking at the opening reception Tuesday night were James Blome, President & CEO for Bayer CropScience LP (North America), and Sacramento site leader Mike Millie. Stay tuned for interviews from all the players here in Sacramento and find out more about what this new center means to them and to the future of agricultural production.
Bayer CropScience Biologics Center Opening reception remarks

Bayer CropScience Biologics Center Photo Album