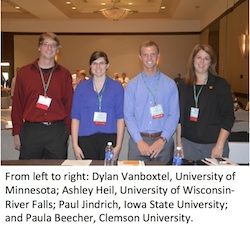 With a great need for talent in the agriculture industry, the human resources industry is looking to students at two and four-year college campuses. But what is the best way to reach them? This question was explored during the panel: "The Voice of Students- Effective Student Recruitment," during the 2014 AgCareers.com HR & Food Roundtable.
The panel was moderated by Paula Beecher with Clemson University and featured Ashley Heil, University of Wisconsin- River Falls; Paul Jindrick, Iowa State University; and Dylan Vanboxtel, University of Minnesota.
The students noted that while companies are doing fairly well coming to campuses for job fairs, they could do a better job of reaching them where they are: online. Via places like Twitter, Facebook and Snapchat but maybe not so much on LinkedIn according to Jindrich who says he doesn't use it to look for jobs. Although, the students acknowledged this would be a good tool for them.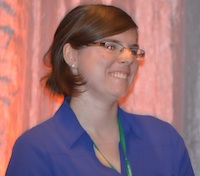 To learn more I spoke with Ashley Heil who has spent her whole life around agriculture. She noted that companies are reaching out and coming to club meetings and getting on campus and doing things directly with students such as job fairs. She also said when looking for jobs she searches websites such as AgCareers.com, company websites and invites them to participate in campus clubs of which she is a member.
The best thing recruiters are doing now, said Ashley, are getting out to campuses and engaging one-on-one with students. She noted they could do better in that more organizations should become involved in campus clubs. Ashley is graduating soon and I'm sure she'll be scooped up before graduation as she seems to be in all the right places for success.
Learn more about ways to recruit students in my interview with Ashley Heil: Interview With Ashley Heil
View the 2014 AgCareers.com HR & Food Roundtable photo album.