Bob Treadway with Treadway & Associates is a forecaster, strategy consultant and a "futurist". He was brought to the 2014 AgCareers.com HR & Food Roundtable to discuss some of the forecasted needs the agriculture industry is going to have in the next 5-15 years.  He said that many clients are not very good at looking at the environment in which they will be operating versus the environment they are currently in.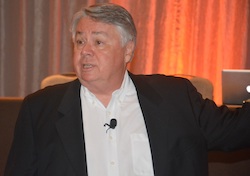 Many companies have said there is not enough talent coming in to the industry but they are looking at agriculture schools as their primary supplier of talent. Treadway advises ag companies to think more broadly and to start thinking about students from the business sector and students from the tech/IT sectors because this is where business is going. (For example, Paul Jindrich with ISU is getting his degree in Supply Chain Management and he was not being recruited by ag companies until he reached out.)
Treadway forecasts (he has a great explanation of forecasting in his interview) that there will be a great need for individuals to work in predictive analytics, often referred to as big data. There are several forecasts that show companies will have a tremendous shortage of this expertise in about five years and probably continuing for another decade beyond that.
"If I was a agricultural company, one of the things I would be doing is trying to find that talent and ensure its retention or I would be taking some of my best people and training them to learn this particular field," said Treadway. "And its my feeling that not only what is important is to be able to forecast what the organization needs in the future, it is also important to forecast those areas that will be affected by technology and replaced by technology."
Learn more about what the jobs are forecasted for the ag industry in my interview with Bob Treadway:  Interview With Bob Treadway
View the 2014 AgCareers.com HR & Food Roundtable photo album.