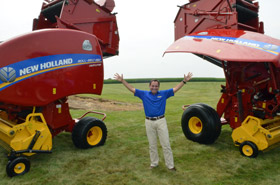 "We've got new balers!" I think that's what Abe Hughes, Vice President, New Holland North America, is saying in this picture.
Abe welcomed a group of agricultural journalists to New Holland North American Headquarters this morning. The company is launching 25 new products and for those of you going to the farm shows this summer/fall, you'll get to see some amazing new products. I will be featuring stories on many of the new products over the next few weeks so I'm not going to try to list them all here.
To kick things off this morning Abe gave us an overview of what the company is focused on now that it has achieved a lot of its goals in rejuvenating the brand. The theme for us today was "Dedicated, Uncompromised, Smart." Abe says New Holland had record profits in 2013 showing that it is in a strong financial position.
Listen to Abe's remarks this morning to learn more about what is going on with New Holland: Abe Hughes Remarks
Photos from today's media event are being uploaded to: 2014 New Holland Media Day Photo Album