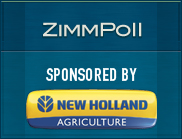 Our latest ZimmPoll asked the question, "What will be on your Independence Day grill?"
It looks like most people stuck with the traditional 4th of July grillers. Hamburgers and hot dogs topped the list and I can't say I am surprised. Maybe everyone was saving their creative genius for the fireworks display.
Our poll results:
steak – 14%
hamburgers – 25%
hot dogs – 18%
pork chops – 14%
chicken – 4%
fish – 0%
shrimp – 4%
lamb chops – 0%
venison – 0%
multiple meats – 11%
other – 10%
Our new ZimmPoll is now live and asks the question, "How would the EPA water rule impact you?"
One of the hottest topics in the ag sector these days has to do with water rights. The EPA says that under the proposed rules defining Waters of the United States (WOTUS) under the Clean Water Act (CWA) "all normal farming practices are exempt – period" but those in the agriculture community are questioning if that will hold true. Have you looked in to how this water rule would impact your operation?