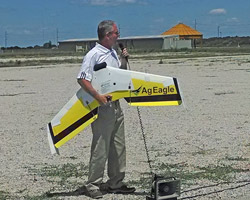 You especially like to have good weather when you're holding an air show! In this case it's the Precision Aerial Ag Show taking place at the Farm Progress Show site in Illinois. Check out the flight schedule that's going on.
I was really hoping to have a chance to attend this event. It has "AgNerd" written all over it. But the next best thing to being there is getting to chat with someone and being able to share a couple of photos.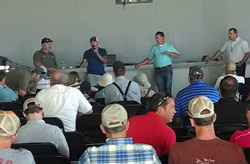 I talked with one of the coordinators for the event, Stu Ellis, AgEngage. The show is presented by Penton Farm Progress.
The show features a UAV technology showcase where manufacturers and suppliers of UAVs and related equipment for agricultural application will demonstrate their products throughout the show. There are also educational activities in addition to the demos.
I learned from Stu that there are more than 1,000 companies worldwide who are involved in UAVs for agriculture. he invited many of them to the show. He says that the U.S. is way behind Japan and countries in Europe in the use of this technology. Surprisingly there are attendees from several countries outside the U.S. As you might guess he says attendees are most interested in using UAVs for crop scouting since it can save so much time.
Listen to my interview with Stu Ellis here: Interview with Stu Ellis
Maybe I can go next year. BTW. Thank you to Hugh Whaley for the use of his phone for both photos and my interview with Stu!