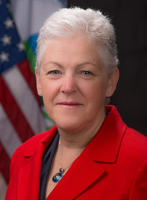 Environmental Protection Agency Administrator Gina McCarthy will travel to the nation's heartland this week to defend and explain the Administration's proposed rules defining Waters of the United States (WOTUS) under the Clean Water Act (CWA).
This Thursday, July 10, McCarthy will give a speech before the Agricultural Business Council of Kansas City to share the Administration's views on why the proposed rules are needed and to answer questions from agricultural interests that have raised concerns about the proposal. Groups such as the American Farm Bureau Federation, National Cattlemen's Association and many others believe the proposed rules represent Government overreach and would require farmers to obtain permits for routine farming and ranching practices.
The administration contends that the proposal, which was published for public comment by the EPA and the Army Corps of Engineers, seeks to provide regulatory clarity after significant uncertainty following two Supreme Court decisions. According to the EPA, the proposed rule preserves existing CWA exemptions and exclusions for agricultural activities. Additionally, the agencies, in coordination with USDA's Natural Resource Conservation Service, will now exempt 56 established NRCS conservation practices from the CWA Section 404 dredged or fill permitting requirements, if they occur in waters covered by the CWA.
Registration for the event is $35 for council members, $50 for non-members and $15 for students.
I'm betting the fireworks on the 10th of July in Kansas City will be as good as the ones on the 4th!