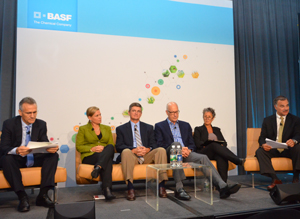 The Future of Food and Agriculture was the focus of a panel at the BASF Ag Media Summit last week in North Carolina, moderated by one and only Max Armstrong.
Members of the panel included (left to right):
Brazilian farmer Aurelio Pavinato, celebrity chef Cat Cora, North Carolina producer Bo Stone, Futurist.com founder Dr. Glen Heimstra, and University of California professor Dr. Julie Guthman.
The conversation included much discussion about the challenges facing agriculture, perceptions of consumers, and organic agriculture. I recorded the first part of the panel, which you can listen to here: BASF Panel segment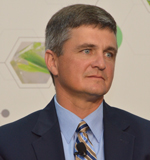 You might recognize this face as Bo Stone is one of USFRA's Faces of Farming. Bo, his wife Missy, and his parents own P&S Farms in North Carolina, a very diversified operation that includes cattle, hogs, row crops, strawberries and sweet corn.
Bo has really enjoyed his time traveling around the country talking with consumers on behalf of USFRA and he appreciated being a part of the BASF Ag Media Summit. Listen to my interview with him here: Interview with Bo Stone, North Carolina producer
Not only did Iron Chef Cat Cora participate on the panel, she also treated us to a taste of her culinary expertise. Watch the video below and learn how to make her yummy Watermelon Gazpacho. Watch and learn below.