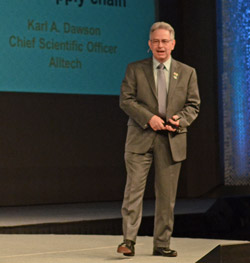 Chief Scientific Officer for Alltech, Dr. Karl Dawson, caught my attention with his presentation at the Alltech Symposium titled, "What if we put true precision in "Precision Agriculture?" The focus was on animal agriculture, something most people don't associate with the term precision agriculture. But as you'll hear him say in an interview I conducted with him it is a very alive and well term in the animal sector too.
Dr. Dawson says the idea behind precision agriculture "is to put together systems that are reproducible and very predictable so that you take a lot of the variability out of agricultural production." At Alltech he says they're putting this into practice in the area of feed evaluation. This includes looking at the whole process from crop to ingredients and mixes and what species the feed is intended for.
His vision of the future uses the "What If?" theme of the Symposium. What if you use this material, what will it look like at the end of the day. It's all about predictive models based on enormous amounts of data processed by computers.
Interview with Dr. Karl Dawson