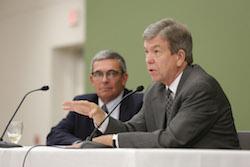 Each year Missouri State University's Collegiate Farm Bureau hosts an Ag Forum to discuss hot topic agriculture issues. This year's panel was formed by Senator Roy Blunt and Missouri Farm Bureau President Blake Hurst and moderated by Missouri State University's William H. Darr School of Agriculture Department Head, Dr. Anson Elliott.
After a dinner of steaks raised from the school's herd of Hereford cattle, each panelist took the stage to give a brief update on specific ag issues and then the floor was open for questions. Topics discussed included water rights, energy, precision technology and food security.
I met up with Senator Blunt after the panel discussion. We not only talked about water rights, science and technology but also about trade negotiations, immigration reform and biofuels.
"I think the big issues is how we deal with the opportunities in agriculture." said Senator Blunt. "Does our infrastructure continue to keep pace with our ability to not only feed ourselves, but be part of a very competitive world food market in need of American products."
Listen to my complete interview with Senator Blunt here: Interview with Senator Roy Blunt
I also spoke with Blake Hurst about Missouri's Right to Farm and how it's a national concern for agriculture. He also hit on GMO labeling and how data is being used to gain more knowledge on individual farms and agriculture as a whole.
"We continue to work both on the state and national level to make sure regulations make sense and that they leave room for farmers to do what we do best and that is farm."
Listen to my complete interview with Blake here: Interview with Missouri Farm Bureau President, Blake Hurst