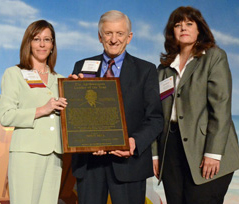 The NAMA Marketer and Agribusiness Leader of the year were honored today at the NAMA conference in Jacksonville.
Sonny Beck, president of Beck's Hybrids, was named the 2014 Agribusiness Leader of the Year, NAMA's highest honor.
As the largest family-owned seed company in the United States, Beck's Hybrids is now the sixth largest seed company in the U.S. Under Sonny's leadership, Beck's Hybrids has experienced a 20 percent increase in sales each year for the last 20 years, doubling in size every four years. Interview with Sonny Beck, Beck's Hybrids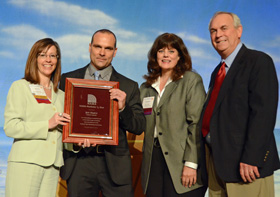 Wyffels Hybrids' director of marketing, Jeff Hartz, was named the 2014 NAMA Marketer of the Year.
As the marketing director, Hartz oversees all strategic marketing efforts including advertising and public relations and the development of the Wyffels brand. He works closely with growers, the sales force and the National Sales Director to develop programs and materials that meet their needs and reinforce Wyffels' position as one of the leading independent seed corn companies in the industry. Interview with Jeff Hartz, Wyffels Hybrids