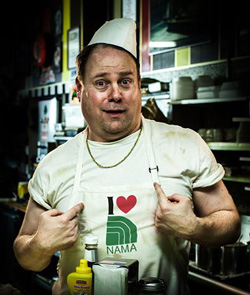 The founders of Rhea + Kaiser have always been true proponents of professional development. That is one reason they are a big sponsor of the National Agri-Marketing Association Conference. Chuck spoke with Diane Martin with Rhea + Kaiser about their coveted After the After Party event.
"In recent years we have been a sustaining partner with NAMA. With that investment we decided to really kick it up a notch to heighten our involvement and presence in an unexpected way, but also provide some level of consistency whether we are sponsoring the National Marketing Conference or regional events."
Rhea + Kaiser currently sponsors the After the After Party during NAMA. Diane said the inspiration came about five years ago when a R+Ker craved pancakes after a night visiting a few of the parties. This led to their sponsorship of a pancake breakfast.
"We're taking it outdoors this year since we are going to be in a warmer climate. There's a new chapter in Pancake Ray's life. He has been experimenting with the menu so there might not be pancakes this year, but there will still be some good breakfast items. We also have a few new promotional items that will give people something different to take home besides a paper dinner hat."
Diane believes the success of this event is simply because it's fun, carefree and no one takes it too seriously. They are also solving a classic need people have after a night of socializing with friends. She also is sending out a warning well in advance to all the single ladies who plan on attending the event. Pancake Ray just might be on the prowl and looking for love.
For every breakfast served Rhea + Kaiser will make a donation to the Agribusiness Educational Foundation (ABEF). ABEF helps young people get started in their professional careers and Rhea + Kaiser believes by supporting the foundation they are supporting future R+Kers.
Diane shared three cornerstones to why NAMA is such a great organization. They are the opportunity for professional development, the chance to create a professional community of friends and the chance to recruit young professionals.
Listen to Chuck's complete interview with Diane here: Interview with Diane Martin