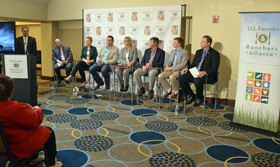 One of the National Ag Day activities taking place in Washington, DC was a USFRA afternoon panel discussion on "The Next Generation of America's Farmers and Ranchers." The panel was hosted by our good friend Sara Wyant.
The event featured very personal stories from young farmers and ranchers on the challenges they face in taking over their family business. They talked about what it means to take on this responsibility in today's environment, including some of the business and perception challenges they face and their opinions on key issues. They also addressed the challenges and opportunities for the next generation of farmers, as well as steps that can be taken to inspire more people to become involved in agriculture.
The panelists included:
• Leighton Cooley, 4th generation poultry farmer and Farmland documentary subject, Roberta, Ga.
• Will Gilmer, 3rd generation dairy farmer and USFRA Faces of Farming and Ranching, Lamar County, Ala.
• Peter Liebhold, Curator, Smithsonian's National Museum of American History, Washington, DC
• Joel Mathiowetz, Corn, soybean, pea and lamb farmer, Executive Director of Minnesota Agriculture in the Classroom Foundation, Morgan, Minn.
• Seth Pratt, University of Idaho Agriculture student, Future Farmers of America, Blackfoot, Idaho
You can listen to the dialogue here:USFRA Next Generation Panel
You can find photos from all National Ag Day activities online here: 2014 Ag Day Photo Album