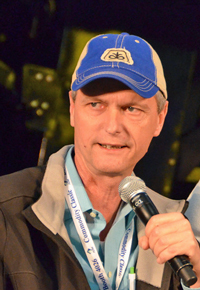 About a week or so before Commodity Classic, I got a call from our good friend and rock star soybean grower Kip Cullers who was all excited about the trip he had just taken to South Africa. So, I did an interview with him while I had the chance, which was a good thing because I barely saw him at Classic, where he had promised to give me a USB drive with photos from the trip but never did. I did catch a shot of him on the stage at Case IH where he was telling the audience about his trip.
Anyway, it was a pretty interesting trip for Kip, who was there with another grower for a tour to meet with local farmers, primarily sponsored by DuPont Pioneer, with participation by BASF and John Deere. "We traveled around the country and had meetings where they were expecting 200 and 400 would show up," Kip said. "We did five meetings and they said that we covered 80% of the total production acres in South Africa, whether it be corn, wheat or beans."
Kip says one of his biggest surprises was that they have Asian Soybean Rust there and was interested to find that they use the same BASF product to fight it, although instead of Headline it is known by a different name. He said the farmers were very interested in seed treatments, which are currently not used much in South Africa.
The trip was great, but Kip says he wasn't thrilled with the food – lamb that was fatty and "kinda got a twang" and some kind of white corn grits-like food that was so dry "I had the spoon turned upside down and it wouldn't fall off."
Listen to my interview with Kip talking about his trip to South Africa, as only Kip can – Interview with Missouri farmer Kip Cullers
2014 Commodity Classic Photos