We've probably all heard the phrase, "New Holland Smart," in the company's marketing campaigns the past few years. Now New Holland has taken the concept a step further with a new campaign that kicked off last month called, "Smart Stories."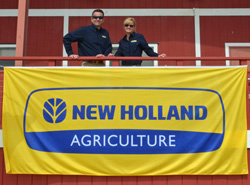 I spoke to Mark Hooper, Director of Marketing for New Holland North America, during last week's Operation Blue Force Train to Win event. Mark is pictured with New Holland Brand Manager, Dawn Pelon, during our lunch stop. With the Smart Stories campaign Mark says, "We focused on our customers. On some of the smart things they're doing in their operations to be more efficient, more productive, to have a better use of resources and we focused on how those customers are using our products and their relationship with their dealer." The campaign is using a mix of media that includes online social media as well as traditional television, print and radio.
You can listen to this week's program here. Smart Stories from New Holland
Here's an example of one of the Smart Stories you'll find as part of the campaign. Jordan Kambeitz shares how his five-generation family farm has evolved from 160 to 20,000+ acres, using high capacity equipment from New Holland and with a helping hand from his dealer, Markusson New Holland.
Thanks to our ZimmCast sponsor, GROWMARK, locally owned, globally strong, for their support.