There's a new Brand Marketing Communications Manager in town. In New Holland, PA that is. She's Dawn Pelon and you'll be seeing her out and about representing the New Holland brand this year. I sat down with Dawn during last week's National Farm Machinery Show and recorded our conversation for this week's program.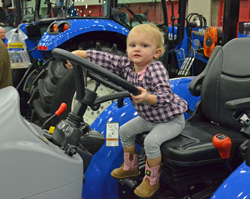 I know it's hard to believe but somehow I never got a photo of Dawn at the show. So, instead, I offer this cute baby blogging photo.
Dawn has been on the job for just over three months. Her background is in automotive and heavy equipment and working with dealer networks. She fits right in with the new team at New Holland and is excited about the opportunity to move the New Holland brand forward. She did her homework before starting too by looking over stories about the New Holland brand in the past and thinking about how to bring it into the future. One of those ways is with New Holland Smart Stories.
You can listen to this week's program to get to know Dawn better here. New Holland Dawn Pelon
Thanks to our ZimmCast sponsor, GROWMARK, locally owned, globally strong, for their support.