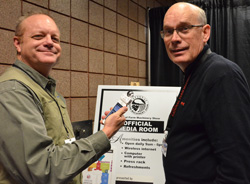 The media room at the National Farm Machinery Show is sponsored again this year by FMC. Thank you FMC!
Only the media know how important this is. For one thing, it provides us a place to get away from the crowds to work and publish information. It's also a great meeting place for interviews. I remember covering this show with no media room. It is a much more enjoyable experience now.
I talked with Paul Redhage about their support and also what they're doing this year at the show which includes a first ever effort. You can listen to my interview with Paul here: Interview with Paul Redhage
By the way. This interview was done with my new Zoom iQ5 mic on my iPhone 5S. Sounds pretty good!
National Farm Machinery Show Photo Album

Coverage of the National Farm Machinery Show is sponsored by
FMC
and
New Holland Agriculture