Last fall, Novus International received an important designation for chelated trace mineral products MINTREX® Zn, MINTREX® Cu and MINTREX® Mn from the Organic Materials Review Institute (OMRI), which determined they have met compliance requirements for use in organic production.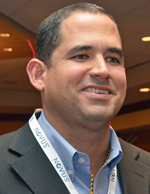 At last week's International Production and Processing Expo, I spoke with Novus director for North America business Ed Galo about MINTREX and its benefits for poultry producers. "MINTREX is a core technology of Novus and one that we have established a critical differentiation from other product offerings," he said. "It's a source of trace minerals which are very important for poultry production such as tissue strength, hatchability and bone strength."
In 2011, MINTREX also achieved a special designation from the Association of American Feed Control Officials (AAFCO) defining a new feed ingredient category for chelated trace minerals.
Listen to Ed explain more about the benefits of MINTREX here: Interview with Ed Galo, Novus International

International Production and Processing Expo Photos