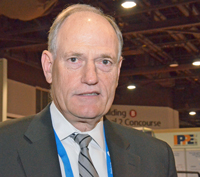 Members of the North American Meat Association (NAMA) here at the International Production and Processing Expo are disappointed to see that Congress is likely to pass a farm bill this week with no changes to the Country of Origin Labeling (COOL) law being challenged in the World Trade Organization by Mexico and Canada.
"It needs to be fixed and Congress had a perfect opportunity to do that," said CEO Barry Carpenter. "We clearly need the WTO to expedite their process … this is not the way we should be doing business in the United States."
The "other NAMA" represents members in both Mexico and Canada. "Canada and Mexico are our two biggest trading partners," said Carpenter. "Why are we doing this?"
A WTO hearing on the issue is expected to be held next month.
Listen to my interview with Barry at IPPE here: Barry Carpenter, North American Meat Association
International Production and Processing Expo Photos