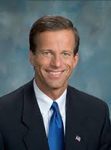 Senator John Thune (R-SD) believes a farm bill is "getting closer to the finish line" but he still has concerns about aspects of it.
"Particularly the lack of reform in the commodity title of the bill, I think that's a real missed opportunity," said Thune during a press call with reporters this week.
Thune voted against the farm bill that passed the Senate last year because it "relies on high fixed target prices set in statute by Congress which is very far afield from the market-oriented reforms" that he hoped would be in the bill.
The South Dakota senator is particularly concerned about getting a bill quickly to get assistance for producers in his state who lost livestock during the October blizzard. He hopes to see a farm bill on the floor next week.
Thanks to Agri-Pulse for providing us with this audio.
Sen. Thune comments