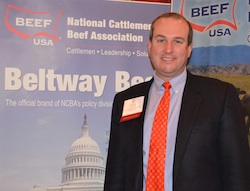 The National Cattlemen's Beef Association (NCBA) attended this year's NAFB Trade Talk event and I spoke with Colin Woodall, Vice President of Government Affairs, while stopping by their booth. Colin voiced that it is an exciting time to be part of the beef community. He admits herd numbers are down, but that it means people are making money. Beyond cattle numbers he discussed a few other hot topics he and others on Capitol Hill are tirelessly working on to ensure beef production in the United States continues to grow and thrive.
The Farm Bill was a hot topic everywhere you went during Trade Talk, but Colin focused on one aspect of the bill that is front and center for NCBA.
"Country of Origin Labeling is one issue that we have to get fixed because right now we have a retaliation that is looming from both Canada and Mexico where they could should us out of their markets or add a surtax our markets probably sometime in late summer or early fall of 2014."
Colin also brought up Federal Lands Grazing. Many farmers and ranchers utilize permits to graze federal lands in the western part of the U.S. Activists groups are pressuring for the removal of these permits.
"We have two pieces of legislation we are working on right now. One is to try and change the way the federal government approaches wildfires. To make sure we are managing federal lands in a way to mitigate the severity of wildfires. Then also we are trying put in place a Grazing Improvement Act that would make the process to get these permits a little bit more expedited and try and cut out some of the bureaucratic red tape we have to deal with right now."
The beef industry relies heavily on international trade. On this topic Colin shared news on the Trans Pacific Partnership and what it means to producers and consumers alike.
"Trade is extremely important for us because we are always looking for ways to get new consumers, new markets open. And to be able to do that we have to have access to these foreign countries. The Trans Pacific Partnership is going to give us some new access to a lot of the Asian markets and will help us as we continue to recover a lot of the markets we lost after the BSE case in 2003."
Last, but certainly not least, we talked about immigration reform and issues with border security. If you don't live in the Southern states these can be an issues that are easily forgotten, but Colin reminds us the impact it has on those that live on the border and what it means to the entire beef community.
"We had hoped that this year we could get some immigration reform passed, unfortunately it doesn't look like that is going to happen. We are doing everything we can to try and set things up for reform in 2014. We have to address the border security issue and make sure our members down by the Southern border are not having to live in fear of having their houses broken into, equipment damaged or fences cut. At the same time we have to have a workable guest worker program that allows us to have workers not only on farms and ranches but also in packing plants and feed lots."
Listen to my complete interview with Colin here: Interview with Colin Woodall
Checkout photos from NAFB Convention: 2013 NAFB Convention Photo Album