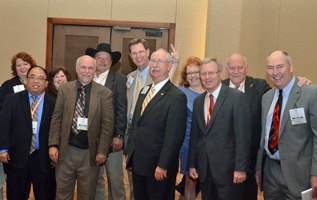 The NAFB Foundation auction raised over $20,000 last week, thanks in a big way to the now-traditional boys and girls fight over the Agri-Pulse Lake Trip, which was responsible for nearly ONE THIRD of that amount!
Sara Wyant and Al Johnson's generosity means they will once again host two NAFB groups next summer at their beautiful home on Lake Ozark. The dorky boys club ran up the bid again to a record $3100 – and the fabulous farm chicks met their price for a second trip. It's a friendly rivalry for a very worthy cause.
We were happy to welcome a few new members to the girls club this year – including Pat Morrow of BASF and Haylie Shipp of Northern Ag Network. They will be a great addition to our group, which will celebrate our fifth Lake Girls Trip next year. Oh yeah – and our own Leah Guffey will be joining us as well.
2013 NAFB Convention Photo Album