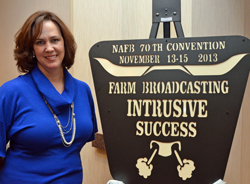 The lovely and talented Janet Adkison is our guest on this week's ZimmCast, live and unplugged from the 70th annual National Association of Farm Broadcasting (NAFB) convention in Kansas City.
Janet is the president-elect of NAFB and has been in farm broadcasting for many years, starting with local radio in Springfield, Missouri. We hired her from there to work at Brownfield for a few years, then she went to work for KMZU in Carrollton, Missouri. Earlier this year, she made the move to Nashville to join the RFD-TV team and has helped to develop their radio channel on Sirius.

Hear more about Janet's new job and the NAFB meeting, which she coordinated this year, in this edition of the ZimmCast. NAFB President-Elect Janet Adkison
Thanks to our ZimmCast sponsor, GROWMARK, locally owned, globally strong, for their support.
2013 NAFB Convention Photo Album