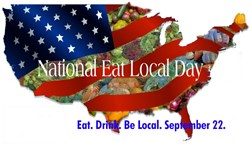 Chef Sarah Stegner of Prairie Grass Cafe in Northbrook, IL and Cindy Kurman of Kurman Communications, Inc. in Chicago have founded National Eat Local Day to be held annually on the Fall Equinox, which this year is on September 22.
"Our hope is that leading chefs across the country can work together to raise awareness of the importance of supporting our local sustainable farms. We hope to increase the flow of local sustainable food to the restaurant tables across the country in order to protect our farm lands and to ensure their success so future generations have access," said Stegner.
Joining the two in their efforts are restaurateur Alice Waters and her chef Jérôme Waag at Chez Panesse (Berkeley, CA), Alison Price Becker at Alison Eighteen (New York City, NY), Stephanie Pearl Kimmel at Marché (Eugene OR), François de Mélogue at Figue Mediterranean (La Quinta, CA), Mark Grosz at Oceanique (Evanston, IL), Paul Fehribach at Big Jones (Chicago, IL), Jamie Leeds at Hank's Oyster Bar and Lounge (Washington, DC), Nora Pouillon at Restaurant Nora (Washington, DC), Norman Van Aken at Tuyo (Miami, FL), Sarah Stegner and George Bumbaris at Prairie Grass Cafe (Northbrook, IL), and Rick Bayless at Frontera Grill and Topolobampo (Chicago, IL). The list will continue to grow. For more information, please visit the website at www.nationaleatlocalday.com.