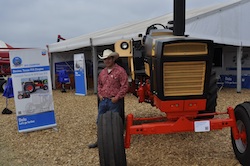 Last week at the 2013 Farm Progress Show I spent some time checking out the Chevron Delo display where a beautifully restored 1970 Case Demonstrator 1070 caught my eye. Ryan Haass was the young man behind the work, which won him the Delo Tractor Restoration Contest last year. Ryan was also the top winner of the contest in 2011, and his brother and sister were runners-up in previous years.
Ryan says he chose the Case 1070 because there were so few produced and he wanted to do something special. Haas is no stranger to restoring tractors, he's won several different competitions which helped him be able to afford to restore the Demonstrator.
Ryan says he's helping the younger kids in his home state of Texas interested in learning more about restoring tractors and participating in contests.  He's happy to share his knowledge, now that he's in college and already has his own business, because sharing his tips keeps him involved.
Listen to my conversation with Ryan here: Interview with Ryan Haass