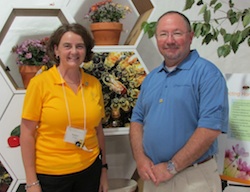 Bayer CropScience can easily say they are the only exhibitors with live bees in their booth at the 2013 Farm Progress Show in Decatur. Following the luncheon on the opening day of the show, media got the chance to speak with Bayer researchers regarding the importance of bee health in agriculture.
Robyn Kneen, North American Bee Care Manager, and Bill Hairston, Director of Product Development for SeedGrowth, made the trip from North Carolina to inform growers about the vital role bees play in all facets of agriculture.
"One-third of every bite of food that we eat comes from crops which are pollinated by honeybees," stated Kneen.
Corporately, Bayer recognizes the need for bees in agriculture and stands on a platform company wide of both bee and crop protection. To help promote education and protect bee health, Bayer is opening their North American Bee Care Center in Research Triangle Park, North Carolina. The North American center is the second research facility Bayer has opened for bee care research.
"We intend to do research into some of the factors which are affecting bee health today," stated Kneen. "In particular, pests and parasites that have been identified as causing an issue in bee health."
The Bayer Bee Care Center will have full laboratory capabilities. Scientists will be able to conduct research on beehives via honey extraction and practical apiculture. The center also has conventional room with presentation space for beekeepers, farmers and educators that will be used to provide resources necessary to educate agriculturalists and consumers.
Listen to my interview with Robyn & Bill here: Interview with Robyn Kneen & Bill Hairston
2013 Farm Progress Show Photo Album
Coverage of the 2013 Farm Progress show is sponsored by Bayer CropScience, Growmark and New Holland