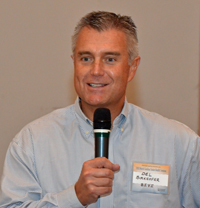 Meet Del Birkhofer, the brand new executive director of the swine business for Boehringer Ingelheim Vetmedica Inc (BIVI).
Del has 26 years of experience in the animal health industry, working with Merck and Merial, and he is happy to make this move to BIVI at this point in his career. "I was looking at my future and BI is one of those companies I always looked upon as an excellent place to be," he said.
He says BIVI is a leader in the swine health industry by being innovative and solutions-minded. "It goes beyond selling products, we need to be working hand in hand with our customers on a daily basis," said Del. And that is one of the main purposes of the BIVI North Carolina Health Seminar, where we are this week. It's the 13th annual event for the company, bringing hog producers and their families in this important region for a couple of days on Wrightsville Beach to share information and fellowship.
Listen to my interview with Del here: Interview with Del Birkhofer, BIVI