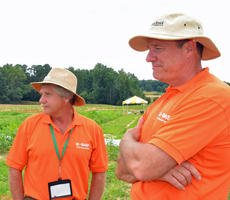 BASF had the honor of hosting the 34th annual Southern Weed Science Society Weed Contest this year at headquarters in North Carolina.
"It's where new and prospective weed scientists working on their Masters or PhDs with various universities are here for a contest," said BASF's Dr. Dan Westberg. That contest included everything from weed and herbicide identification, to problem solving and calibration.
BASF also hosted a southern ag media symposium at the same time as the weed contest, so we could learn more about the SWSS and what BASF has to offer southern growers. "We're considering developing Zidua (herbicide) in peanuts, particularly for season long grass and broadleaf weed control," Dr. Dan explained. Interview with Dr. Dan Westberg, BASF
Glenn Oliver is responsible for managing the BASF Research Farm where the weed contest was held and he says quite a bit of planning and work went into the event. "It starts in January when we try to figure out the herbicide symptomology plots…go over grower problems," Glenn said. "Then you start out in the spring and start planting and hoping it will be ready to go the first week of August." They did have some problems with a wet spring, but Glenn says it all worked out and culminated in beautiful weather last week for the contest. Interview with Glenn Oliver, BASF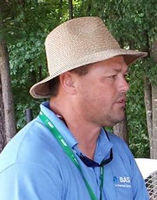 Contest coordinator Tom Eubank with Mississippi State says 54 students from eight southern universities participated in the the weed contest. He says it is a very "intellectually challenging contest" for the students, particularly the farmer problem segment of the competition where "they're tasked with figuring out the problem and then giving a proper response to address the issue and preventing it from happening again in the future."
Eubank says there has been a resurgence of interest in weed science as a profession because of resistance issues. Interview with Tom Eubank, Mississippi State weed scientist
All of the individual and team winners were recognized during a great dinner at the Angus Barn in Raleigh on Wednesday night. The top team winner was long-time champion and Dr. Dan's alma mater University of Arkansas. Coming in second and third were Virginia Tech and Mississippi State. Check out the photo album for all the winners!