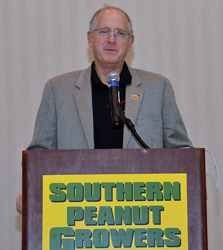 Congressman Mike Conaway (R-TX) provided an update on the farm bill at the 2013 Southern Peanut Growers Conference on Saturday.
Rep. Conaway, a member of the House Agriculture Committee, says the House still intends to get a nutrition bill passed. "We'll have a nutrition title and it will have reforms in it…probably stronger reforms than what we had in the one that passed out of committee," he said.
The House farm-only bill was sent over to the Senate last week and but when it goes to conference is still up in the air. "There's an awful lot of work that goes on in conferences ahead of the appointment of conferees," said Conaway. Of course, the chairs of both the House and Senate ag committees will be conferees, and since they take turns chairing conference committees, it's the House's turn so Cong. Frank Lucas (R-OK) will have the chair this time.
The White House has already threatened to veto a farm-only bill but Conaway thinks that makes no sense. "It's illogical," he said. "If there are no changes to food stamps and your only real beef was with the food stamp changes, why would you punish the farm bill because we didn't change food stamps?"
Listen to or download my interview here: Interview with Rep. Mike Conaway