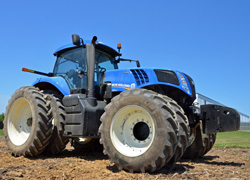 A Genesis is going on at New Holland. Specifically, a Genesis T8 Series of tractors! Here's one of the newest tractor in the New Holland line out in the field at New Holland headquarters in Pennsylvania.

To commemorate the 20th anniversary of the industry-changing GENESIS™ tractor, New Holland has built a machine to honor its legacy—the GENESIS™ T8 Series tractor. No matter what your agricultural demands include, you can rely upon the new GENESIS™ T8 series tractor to get things done—just as the original tractor did!

I got out in the field with this bad boy and visited with Gary Wojcik, Segment Marketing Manager for large horsepower tractors, to find out all about this new tractor. I'll have video to share with you as soon as I get a chance to edit it together.
Listen to my interview with Gary here: Interview with Gary Wojcik
You can find a lot more photos of the new Genesis here: New Holland Genesis T8 Series Tractor Photo Album
Please feel free to download and share photos as always.