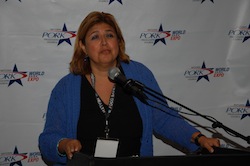 Anne Alonzo is attending her first World Pork Expo since taking the helm as the USDA Agricultural Marketing Service (AMS) Administrator just over a month ago. During her comments this morning, she said that the USDA is very supportive of the efforts of the pork industry and will continue to work with them on key issues.
There were several items Alonzo said are currently on the radar and gave updates on mandatory price reporting, pork purchases and the Pork Checkoff. She was joined by Dr. Craig Morris, deputy administrator who also addressed compliance issues and said the AMS is very happy with the industry's response to recent compliance requirements.
While in Iowa, Alonzo said she had the opportunity to visit her first hog operation and became taken with a day old baby pig. She said although she is new to the industry, she looks forward to working with the National Pork Producers Council (NPPC) and others to ensure the success and growth of the pork industry.
Listen to Alozno's remarks here: Remarks from USDA's AMS Administrator, Anne Alonzo
Visit the 2013 World Pork Expo photo album.