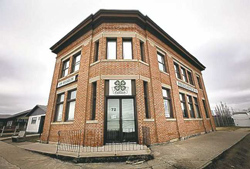 Dr. Roberta Bondar was the guest speaker at the 4-H Canada 100th Anniversary Gala held on May 30. As an astronaut, physician, scientist, photographer, author and, as she proudly proclaimed, an Aggie, Dr. Bondar presented photos from her 1992 travels on the NASA space shuttle Discovery. Her view from space emphasized the importance of agricultural research and technology in being able to feed a growing planet with ever decreasing arable land.
Dr. Bondar's remarks were in keeping with all of the things that make 4-H one of the largest and longest lasting youth organizations in Canada. Currently there are approximately 26,000 members and 8,000 leaders in every province across the country, upholding the commitment to "Learn to Do by Doing."
And as part of the 100th celebration, the official Museum of 4-H in Canada was proclaimed in Roland, Manitoba. In proclaiming Roland as home to the official museum of 4-H in Canada, each provincial 4-H organization in attendance donated one item to the special Centennial Display Case. The museum is housed in the former Roland Royal Bank Building, originally erected in 1902 for the Bank of Hamilton, a forerunner of the RBC. In 1990, the building was taken over to promote Roland as the birthplace of 4-H in Canada, housing a handful of artifacts and memorabilia.
Now that it has been proclaimed as the official museum of 4-H in Canada, the Canadian 4-H Council will add further historical collections and artifacts, currently held in Ottawa, to the Roland 4-H Museum. This expanded collection will make the museum in Roland a destination for anyone wanting to wade into the past of 4-H in Canada.