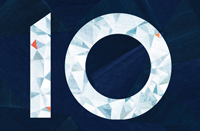 WordPress is ten years old and ZimmComm has been with it for almost nine of those years! AgWired was our first WordPress website, converted from Blogger. We saw a good thing and ran with it and have not only built many WordPress websites for ourselves and our clients but I think we've turned many others in the industry onto the best online publishing platform there is.
I had a chance to meet Matt Mullenweg, one of the founders, early on in this agriblogging journey. He was thrilled to see his product fueling the agricultural communications business. I've learned a lot from him and others and continue to do so as WordPress has developed along with all of communications technology. Robert, our web guru, cut his teeth on WordPress and the technology behind it and continues to work with us since that start of what is now the AgWired community. Without WordPress and people like Matt and Robert I don't think we'd be where we are today.
Here's an excerpt of a post Matt wrote about the milestone.

It's been ten years since we started this thing, and what a long way we've come. From a discussion between myself and Mike Little about forking our favorite blogging software, to powering 18% of the web. It's been a crazy, exciting, journey, and one that won't stop any time soon.
At ten years, it's fun to reflect on our beginnings. We launched WordPress on 27th May 2003, but that wasn't inception. Go back far enough, and you can read a post by Michel Valdrighi who, frustrated by the self-hosted blogging platforms available, decided to write his own software; "b2, a PHP+MySQL alternative to Blogger and GreyMatter." b2 was easy to install, easy to configure, and easy for developers to extend. Of all the blogging platforms out there, b2 was the right one for me: I could write my content and get it on the web quickly and painlessly.

You can read the rest of his post here.