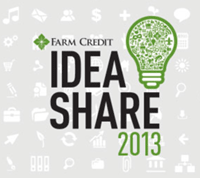 It's time to discuss some ideas at the 2013 Farm Credit Idea Share in New Orleans. I'm headed that way today and will be participating on this panel tomorrow morning. Let me know if you've got some ideas to share on this topic and I'll include them in my presentation.
Meet the New Media
Panelists: KayDee Gilkey, Northwest Ag Information Network |Dan Looker, Successful Farming | Chuck Zimmerman, AgriBlogger | Emily Zweber, AgChat Foundation
Moderator: Becca Yaklich, AgriBank
From newsrooms to newsfeeds, the way people consume the news has changed. A panel of ag media influencers will share their perspective on how today's landscape impacts story development, how news outlets are using social media, how they like to work with PR professionals and what you can do to help tell your organization's story.
There are a lot of questions being posed to initiate discussion at the event. Here are some of them.

What do you think the world needs to know about American agriculture? What does Farm Credit and American agriculture look like to you? What does Farm Credit mean to you and to the generations of American farmers and ranchers we've served for almost 100 years? What are your aspirations for Farm Credit in the future? Next week at Idea Share, we will ask you to consider these questions and answer them in a way you never have before. Write it on your body.

You can follow along with what's happening at Idea Share using the #IdeaShare2013 Twitter hashtag.