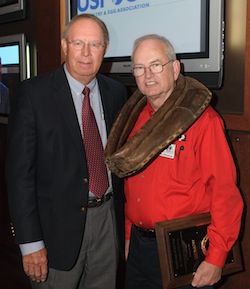 Vice President of USPOULTRY, Dr. Charles Olentine, was named Workhorse of the Year during the International Poultry Expo. This year's expo was part of the International Production & Processing Expo.
This honor is given annually in recognition of dedicated service and valuable leadership given to the poultry industry. Olentine was "collared" with the long-established horse collar by 2012 Workhorse of the Year recipient, Bill Bradley. He was also presented with a commemorative plaque by 2012 USPOULTRY chairman, Mark Waller, Ingram Farms, Cullman, AL.
After earning his BS in Animal Science at Cornell University, MS in Animal Science at the University of Kentucky, and PhD in Animal Physiology from Clemson University, Olentine worked with the National Feed Ingredients Association and with Watt Publishing for over 24 years before joining USPOULTRY in 2004. Olentine is in charge of all aspects of the International Poultry Expo for USPOULTRY.
You can find photos from the event here:International Production & Processing Expo Photo Album